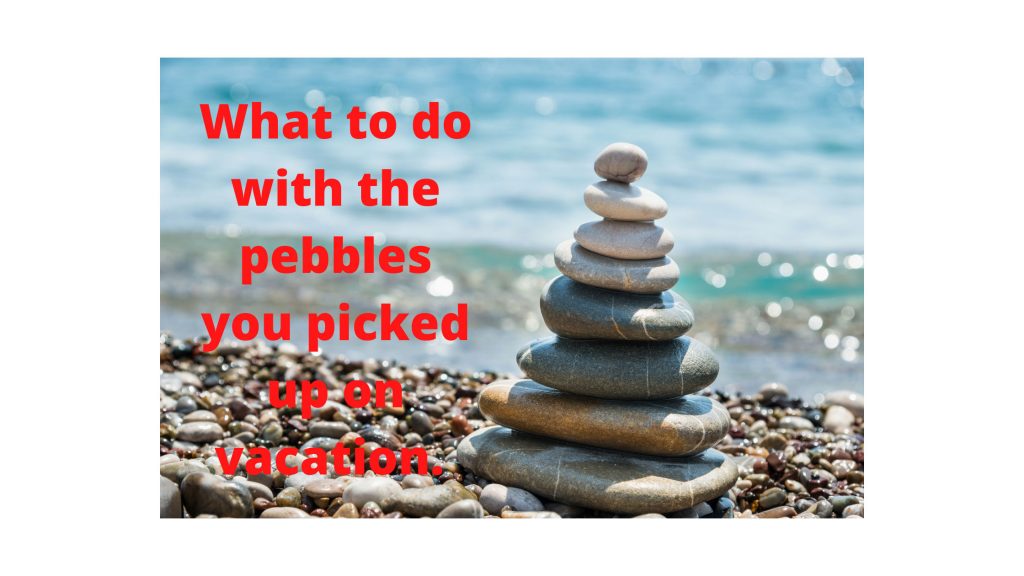 If you're like me, you're genetically pre-disposed to pick up rocks wherever you go.
I tend to come home from a simple trip to the beach with pockets dragging. I've picked up stones in Japan, Greece, Turkey, England, Michigan, Brazil, and on the top of Mt. Vesuvius. They fill bowls and line window sills.
However, you may have the desire to make something of your finds: drill them, tumble them, have them cut into a cab or carving, and set them. But how do you know what might make a good jewelry stone?
First, the stone should be hard.
Well, yes, all stones are hard, relatively speaking. But if you want to cut or tumble it, this means your stone should be higher than a 5 on the Mohs Hardness Scale. The Mohs Scale is a comparative scale of mineral hardness with talc, as in talcum powder, being 1 and diamond being 10.
How do you know if a stone is "hard enough"?
If your stone scratches a knife blade (5.5), it is hard enough to cut and take a good polish. Scratch your stone across the blade. Wipe away the powder to be sure you've scratched the blade not just powdered the stone. If the stone scratches the blade easily, its hardness is much higher. If it scratches only with effort, it is about the same hardness as the blade.
Turquoise and obsidian (volcanic glass, apache tears) are on the low end at about 5 to 6. Feldspars (sunstone, moonstone) are 6 to 6.5 Quartz (smoky, amethyst, and citrine) is 7. Garnets and tourmalines are 7 to 7.5. Topaz is 8. Corundums (sapphires and rubies) are 9. Only if you're rockhounding in the Arkansas' Crater of Diamonds State Park and find a greasy/shiny stone will you have to worry about stones of 10 in hardness.
Second, look for something without fractures, if possible.
Fractured stones will break during tumbling or cutting. Stones with holes or pits in them will capture grits during the tumbling process. The trapped, coarser grits will continue to scratch the stones as you tumble with finer grits. You won't get a good polish.
If it has too many fractures, but you love it anyway, admire it on the windowsill. I tumbled an agate I found in the Namib Desert, to my regret. It lost all the interesting wind-sanded skin it had.
Third, look for dense, finely grained stones.
These are your best bet for tumbling, cutting or carving. Stones with large grains—many types of granite, for example — may crumble during cutting or tumbling. They may polish unevenly. If you can easily see the grains, the stone might not be a good candidate for cutting. Rub a couple stones together. If they don't create a pile of debris, you may have a stone dense enough to work with. If the stone is already shiny—especially if it's been tumbling in a lake, river, or ocean—you've got a winner. Sandstone or rocks containing mica will just make dust.
Lastly, consider size.
Depending on whether you tumble it or have your stone cut, you'll lose between 30 and 50 percent of what you pick up. Believe me, when traveling, rock size is definitely a consideration.
Here are some winners.
The best stones for tumbling, cutting, or collecting are agates (including thunder eggs), jaspers, petrified wood, quartz of any kind, obsidian, moonstones, sunstones. Garnets and tourmalines are a price, if you can find them. If you get to Arkansas, I wish you good luck.
One last hint.
Carry a permanent marker. Whatever stone you find, write on it where it was found. They'll all look alike when you get home.
Have fun.