To Trust the Heart: An Eden Beach Main Street Novel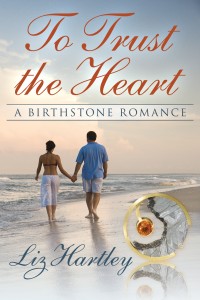 The 1994 recession has hit Cassie Franklin, a custom jeweler in Eden Beach, California, right in the heart. With sales falling and bills piling up, and with would-be real estate mogul, Carla Towne, scheming to force Cassie out of her shop, Cassie must pull out all the stops to survive. Her best chance to save her business is to find a way to get into the most prestigious art show in Eden Beach, but to do that, she will have to take risks with her work and her life. Risks that might cost her everything.
It's the worst possible time for Tate Garner, handsome owner of the exciting new restaurant around the corner, to stroll into her life. Tate's silver-spoon background is everything Cassie, an outsider with a chip on her shoulder, ridicules. But as she discovers the man behind her preconceptions, she wonders if she can trust herself to take the biggest risk of all: falling in love.
Available at: Amazon, Barnes and Noble, Kobo, iTunes.
The Listening Heart: An Eden Beach Crime Novel
Stacie Cappella just wants a normal life. Instead, her eerily accurate—though unpredictable—gift of Second Sight, inherited from her eccentric, fortune-telling great aunt, has given her a lifetime of embarrassment, shattered friendships, and broken hearts. She does her best to keep her inconvenient hunches to herself. But even something as simple as selling wind chimes, crystals, and tarot cards at her shop, The Bell, Book and Crystal, has opened her to charges of witchcraft.
Then the belligerent wife of a powerful city council member accuses her of fraud.
Eden Beach Police Detective Ben Robard, a jaded Iraq war vet and skeptic of all things metaphysical, is reluctant to take on the frivolous fraud investigation, especially since a serial killer may be targeting his city. Despite signs the no-nonsense cop is the love her aunt foretold, Stacie is determined to keep a fence around her heart—and a tight rein on her intuition.
But one chilly morning, a nightmare steps out of the fog, and Stacie must risk revealing her gift to convince Ben she's in danger. It's a move that could save more lives than hers—but could lose her the chance at love she thought she'd never have.
Sing Me the Rain: An Eden Beach Main Street Novel
Sarah Barton's dream career has become a nightmare. Her beloved boss, Sam Kellerman, a world-renowned gemstone dealer in the small town of Eden Beach, California, died just weeks after he made her his partner. Now Sam's family, in their struggle to control the multi-million-dollar business, have their knives out for each other. The sharpest blades, however, are turned on Sarah.
The unkindest cut comes when Sam's son, David, returns to the business he left years before and stakes his claim—right through Sarah's heart. As the crush she'd had on David at nineteen blossoms into love, she can't hide it—from herself or those who would use it against her.
Slanderous rumors about Sarah are spreading through the industry when a humiliating video from her carefully buried past surfaces on the internet, and she becomes the target of a vicious blackmailer. But Sarah is done running. She must confront the shameful secrets in her past before she can secure the future she's dreamed of—and David's love.