Cassie Franklin's willing to risk everything… but her heart.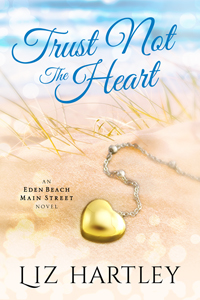 The 1994 recession has hit Cassie Franklin, a custom jeweler in Eden Beach, California, right in the heart. With sales falling and bills piling up, and with would-be real estate mogul, Carla Towne, scheming to force Cassie out of her shop, Cassie must pull out all the stops to survive. Her best chance to save her business is to find a way to get into the most prestigious art show in Eden Beach, but to do that, she will have to take risks with her work and her life. Risks that might cost her everything.
It's the worst possible time for Tate Garner, handsome owner of the exciting new restaurant around the corner, to stroll into her life. Tate's silver-spoon background is everything Cassie, an outsider with a chip on her shoulder, ridicules. But as she discovers the man behind her preconceptions, she wonders if she can trust herself to take the biggest risk of all: falling in love.
Available NOW at: Amazon, Barnes & Noble, Kobo
Want to support your local bookstore? (I applaud you!) You can now order your paperback through them directly or through Bookshop.org. At Bookshop, you can have the purchase credited to your local bookstore or credited to Bookshop to support all independents.