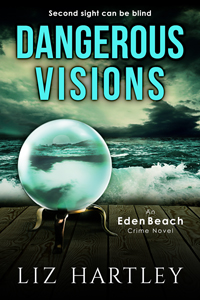 Finally! The first book in my Eden Beach Crime Novels series, Dangerous Visions, is done and out to beta readers. It's taken a lot longer than I thought. From some of the comments coming in, it will take a bit longer yet as I make it stronger. I've added a suspense element to this one, and that has made the pacing trickier.
This one has a stalker/serial killer who is shadowing my main female character, Stacie Capella. I've already had one friend tell me she won't read it and that's fine. But I wanted to try something darker. Not sure I'll try it again, but I'll have to wait and see.
Now, on to book three as I wait for the rest of the comments from beta readers. I'm determined this one will get done faster.