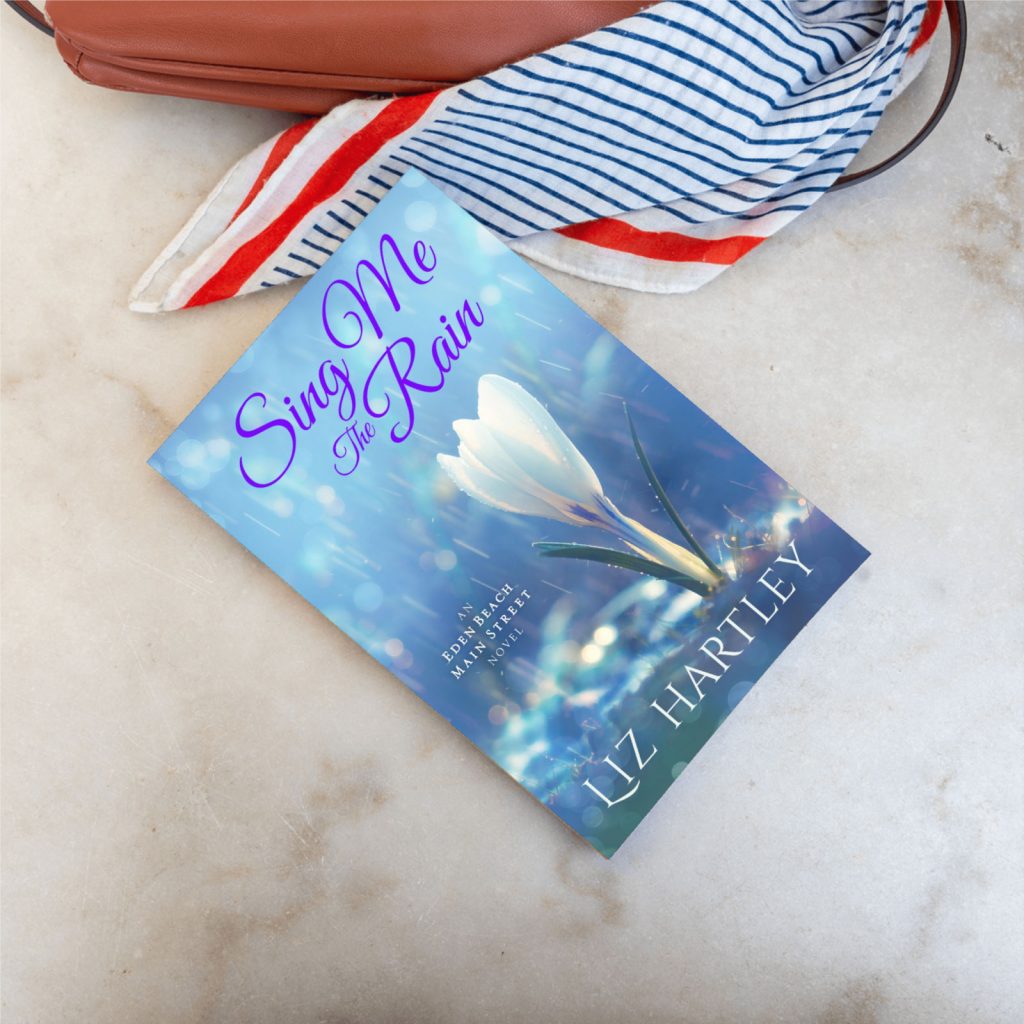 I'm slowly building my word count in the next Eden Beach Main Street series: Sing Me the Rain. This one will go deep inside the colored gemstone business, when Sam Kellerman, a well-respected colored gemstone dealer, dies without a will, leaving his wife in charge of a multi-million dollar business about which she knows nothing. Her son is confused and her brother-in-law furious by the situation. And Sarah doesn't know if Sam's wife is aware that, before his death, Sam had begun the process of making Sarah his partner.
There's no time to sort it out, because within days, they all have to be at the Tucson Gem and Mineral show, the largest of its kind in the world, and they all need to work together to convince the jewelry industry that Kellerman's is sound and safe.
But nothing is going smoothly. First, Sarah and Sam's son David make a misjudgment of almost monumental proportions. Then Sam's nephew Michael, who is also at the show, creates a potentially huge problem with his carelessness. David turns to Sarah to make it right.
This is a draft, so things may change before the final. But let me know what you think! Thanks, Liz.
Making Lemonade
Sarah looked after Michael as he stormed from the booth, then turned back to Fred, eyebrow raised.
"Pissing contest," said Fred quietly.
"Ah," was all Sarah said, coming behind the counter. "Morning," she said to everyone and no one. She was pulling her tablet out of her purse when David stopped her.
"Sarah," he said, and hated the wary look that came to her eyes. How on earth did she manage to look so beautiful this morning? he wondered. No one would ever know she'd been awake more than half the night. Way more than half.
"Michael was supposed to deliver a nine-carat cushion-cut ruby to Jai Chaudhari a couple days ago. Apparently it slipped his mind." She barely lifted an eyebrow. David might not have noticed anything so slight before last night.
Stop it.
"Would you run it over to their room? Maybe you can tell Jai there was a miscommunication? Michael thought he was coming here to pick it up?" David flipped his laptop around so Sarah could see Jeannette's e-mail.
"Sure," said Sarah. "Fred, do you know where that stone is?"
"Yes. It's here," said Fred pulling a tray out of a case. "Lucky thing. I had someone looking at it yesterday."
"Selling it would have been bad, if it's been promised to Jai." Sarah wrote the measurements, weight and price code on a stone paper, dropped the stone into it, and slipped it inside her jacket. As she dialed Jai's number, she told David. "He's going to want a price on it, if he's had to wait," she said.
David sighed.
"It's in your hands," he said.
Sarah nodded. "Jai?" she said into the phone. "Sarah at Kellerman's. Seems we had some crossed wires. Mike thought you were picking the stone up here. I can have it to you in fifteen minutes." She was quiet for a minute. "Hmm. I don't know if we can do that, Jai, but we can certainly talk."
"He's going to beat us up, isn't he?" David asked Fred quietly.
"He may try, but I doubt he'll win," said Fred. "Listen."
Sarah was telling the dealer: "You had that amazing Paraiba on memo for a designer customer of yours. Any luck with it?" Pause. "I agree. Normally it would be tough to match that. But if he's thinking of a neckpiece, like that, we happen to have a suite. The center stone is smaller than the one you have, by about five carats, but it's almost the same killer color. And there are another six stones, graduated, in pairs, to match. Would make a sensational neckpiece if that's what your client wants. Why don't I bring the suite along? I can pick up the other Paraiba at the same time." A pause. She smiled. "Great. Be right over." She thumbed the phone off.
"I know that smile," said Fred. "I saw it on a Great White nibbling a surfer."
Sarah just smiled again "Would you pull that suite for me?" Fred was already turning to the case.
Sarah was making another call.
"What's going on?" Jesse asked Fred.
"Watch and learn," Fred told him, as he wrote the essentials—inventory code, weight, price code—on gemstone papers for the Paraiba tourmalines.
"Rashid. Sarah. Kellerman's. Question for you. You had that Paraiba suite last summer, but it didn't work for you. What was the problem?" Pause. "Really? And she wasn't interested at that price?" Sarah listened for a while. "No. I agree. But listen, do you know if she's here at the show, and if she still might be interested in a suite like that?" She paused. "No, not Paraibas. But I'm thinking, if she didn't want that price, I have some apatites in that color range she might like. And the price will be better. Yes, one that size and one bigger. What do you think?" She caught Fred's eye and he nodded, turning toward another case, taking out brilliantly colored apatites that approximated the color of the Paraiba suite.
"What?" Jesse asked again.
"She's making multiple sales from Michael's screw up," Fred told him.
This is why we can't lose her, David thought. He'd watched his father, with an encyclopedic knowledge of the inventory and their customers, do just what Sarah was doing, playing a shell game where everyone would win. David's heart twisted. At one time, he would have been able to do the same thing. He'd forgotten—or had tried to forget—how exciting this business could be.
Jesse still looked mystified.
"She's going to sell the apatites to the customer who couldn't sell the Paraiba suite because of the price. Jai'll take the ruby, because he has a customer, and will probably take the Paraiba suite, too, since he had a customer looking for something like that. She'll get full price for the ruby and, knowing Sarah, she'll probably get full price for the suite, too. Even if she has to lower the price on the tourmalines, Sam bought them four years ago. Even at a lower markup, we still won't get hammered. Jai will make a bigger profit, and we're all happy."
"Sure. I'm going out now," Sarah was saying. "Why don't I bring those apatites by? Great. See you in a bit."
David smiled at her as she terminated the call, and she smiled back, the look of a cat finishing a bowl of whipped cream. For a moment everything seemed the way it had been.
He could see the moment she remembered. Her face closed up. "I'd better go. Thanks," she said taking the papered stones from Fred and putting them inside her jacket. She snagged her purse and slipped out of the booth as Saul Levin walked up. "Morning, Saul," she said, continuing to move down the aisle.
"Something I said?" joked Saul, as she breezed by him. Sarah smiled and waved over her shoulder.
David took a deep breath and went to greet one of his father's oldest friends in the business. "Saul. Good to see you."
"That girl's a pip," said Saul, smiling back at David. "Best day's work your dad ever did was hiring her."
And the worst I ever did, thought David, was to lose her.