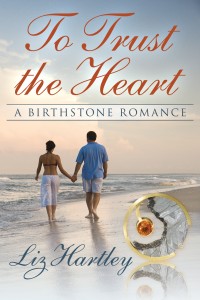 The cover of To Trust the Heart would not be nearly so beautiful without the work of Jacob Albee, a goldsmith and jewelry artist in Burlington Vermont. The piece presents a striking contrast between the rough, etched, literally out-of-this-world texture of a Gibeon Meteorite slice, the sharp precision of the golden spessartite garnet, and the smooth, cool surface of 18k gold. This combination, I thought, made it the perfect example of imagination that might have been used by a jewelry designer such as Cassie Franklin, the female lead in To Trust the Heart.
So I was delighted when Jacob gave permission for me to use his pendant, Yin Yang, on the cover, although this might have been one of the strangest requests for photo use permission he'd ever gotten.
Jacob didn't start out as a jeweler with an inside job. Originally, he planned to be an ornithologist. But his path turned during a summer job as a teaching assistant in the jewelry studio at Dartmouth College. Jewelry making became a hobby, then a career.
Meteorites were not on his radar until a friend gave him one for his birthday. "I'd never seen one and didn't realize they were metallic, how amazing looking they can be, and how much thought they can provoke."
At first, he set the slices like gemstones, but eventually, since the Gibeon meteorites are 100% metal, he began working it like he would any other metal, combining it with precious metals and setting stones into it. "That birthday present was the impetus for it all," he says.
Jacob etches the surface of the meteorite to bring out the distinctive pattern of the metal. He leaves all natural edges as they are, which adds to the fascination and contributes to the striking contrast between meteorite, cleanly finished precious metal, and fine cut gemstones.
Of his work, Jacob says: "I love working with things like meteorite where you have no control over the patterns or the edges except how you use it. I compare the working process to that of a woodworker or stoneworker. You have to work with what you've got, and that's that. That is often the muse. You follow the lead of the material. Everything I use and add [to the work] is based on what's presented to me by the meteorite."
That doesn't mean (as you can see from the pendant) that he carries a rough, unfinished surface into the work surrounding the meteorite. "I want everything I'm doing to be as clean, as perfect, and as tight as it can be." It's an approach, he says, that can't help but create contrast "between the crisp edges, the beautiful gemstones, and surfaces like that of Tahitian pearls—that perfect surface—floating next to the rough edges of the meteorite. I like that juxtaposition. The old and rugged, sharing a conversation and space with the completely controlled, managed, and confined metal and gemstone surfaces."
After ten years of working with the material, Jacob is still fascinated by it. "Knowing what it is, intrinsically, is very cool: thinking about how old it is, where it's been. And it's also visually, absolutely captivating."
To see more of his work, visit Jacob's website: Jacob Albee Goldsmith.