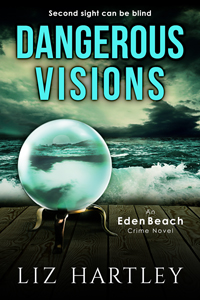 I'm so glad to announce the release of my new Eden Beach Crime Novel, Dangerous Visions. Adding suspense, and a very creepy stalker/serial killer, was a challenge. I learned a lot about pacing.
In the process of writing, I re-read a favorite romantic suspense writer, Mary Stewart. I hadn't revisited her books for years, but I'm glad I did. The first one I ever read was The Moonspinners. It's still my favorite.
Dangerous Visions doesn't take place on an exotic Greek island, but in the small, imaginary town of Eden Beach on the southern California coast. My leading lady, Stacie Cappella, is not on vacation, but working hard as a bookkeeper/tax preparer while running a small crystal shop on the side.
Stacie was born on Valentine's Day, but love doesn't seem to be in her future, even though she wears an amethyst crystal pendant given to her by her great aunt. It's an old family heirloom said to foretell the wearer's true love. It broke when Stacie's great, great grandfather, Tomasz, was murdered, and Stacie's sure that, even if the legend was true at one time, the fracturing of the crystal destroyed its potent fortune-telling capabilities.
Quartz, of which amethyst is one variety, is a fascinating gemstone, and one of its properties is piezoelectricity–it responds to pressure by producing an electric current and vice versa. It was used in radio communication during WWII, and I took some liberties with what that property might mean for those psychically inclined. I had a lot of fun with it. I hope you'll have fun reading it. For more about the story, see the book's dedicated page here on my website.