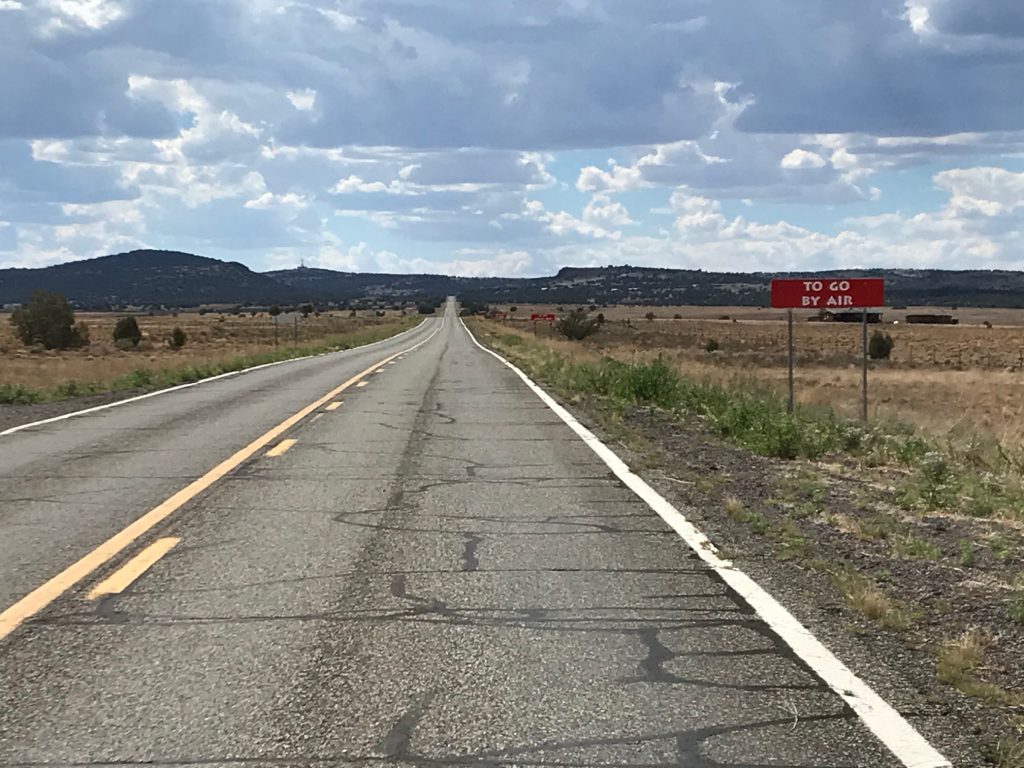 Shave and a Haircut
The one thing I remember about driving Route 66 the first time–a long time ago–was the delight of finding Burma Shave signs in an otherwise empty landscape. Burma Shave, for those who don't remember, was a shaving cream. One way they advertised was by posting along the roadsides a series of five signs, each with part of a clever rhyming poem that had to do with driving or with shaving. The last sign always said "Burma Shave."
We've been thrilled to find a few of them along the road. They aren't the originals. The last originals, according to the wisdom of Google, are in the Smithsonian. But these new ones have been posted by Route 66 enthusiasts to renew the feeling of the road. We came across several series of signs today on the road into Seligman, AZ. Here are some we've found:
Guys whose eyes/ Are in their backs/ Get halos crossing/ Railroad tracks/ Burma Shave
If hugging on highways/ Is your sport/ Trade in your car/ For a davenport/ Burma Shave
Don't pass cars/ On curves or hills/ If cops don't get you/ Morticians will/ Burma Shave
Don't stick your elbow/ Out too far/ It might go home/ In another car/ Burma Shave
The wolf is shaved/ So neat and trim/ Red Riding Hood/ Is chasing him/ Burma Shave
He tried to cross/ As fast train neared/ Death didn't draft him/ He volunteered/ Burma Shave
The one who drives when/ He's been drinking/ Depends on you/ To do his thinking/ Burma Shave
T'would be more fun/ To go by air/ If we could put/ These signs up there/ Burma Shave
And our personal favorite (though I'm not sure it's one of the originals):
Going east/ Or going west/ Route 66/ Does it best/ Burma Shave
Liz
PS: A reminder. The images above usually don't show up on phones. You have to either enable the images for your device, or click on the link to my website. On a phone, swipe the image to bring up the next one. On a tablet or computer, use the arrows on the left and right margins to see additional images.