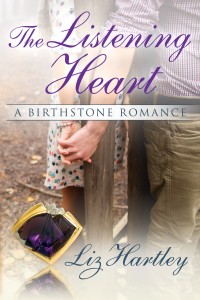 Stacie Capella has inherited more than her shop, The Bell, Book and Crystal, from her eccentric, fortune-telling great-aunt. She's inherited her eerily accurate gift of second sight. Stacie's learned the hard way, though, that if she wants a drama-free, normal life, it's better to keep her inconvenient hunches to herself. Even something as simple as selling crystals, wind chimes and tarot cards has made her the target of a self-righteous religious cult.
If her secret gift wasn't complication enough, the belligerent wife of a powerful council member accuses her of fraud. Enter tall-dark-and-doubting Detective Ben Robard–jaded Iraq war vet and skeptic of all things metaphysical. Convinced the no-nonsense cop is the love her aunt foretold, Stacie has even more reason to keep her hunches to herself.
But when intuition tells her the man stalking her is a killer, Stacie must risk revealing her gift to convince Ben she's in danger. It's a move that could save her life, but lose her the chance at love she thought she'd never have. Ben, who will do almost anything to keep Stacie safe, must decide to trust his own intuition and heart before the hunter kills again.
Coming soon!